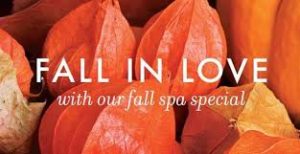 Choose from one of our specialty fall facials and fall in love with your skin!  These facials are only available for a limited time only –  so don't miss out!  Give us a call today to schedule your appointment or book online.
www.67styles.com                                912-681-6767

$35
45 Minutes
We're churning-up chic with a gentle Green Tea Milk Wash and a butter brulee whole milk steamed towel wrap that cleanses and opens your pores with deep hydration. A special exfoliation powder blend of burdock root, rice bran and mango butter will calm, smooth and soften your skin. A steamed, agave infused towel wrap is like warm sunshine soothing your skin before we moisturize, lift and tighten with a firming peptide-enhanced Three Milk Moisturizer and Crow Catcher Eye Transformation Serum designed to bring youthfulness back to your complexion.

$45
60 minutes
Say goodbye to dull and dry complexions with this 5-course pumpkin facial! A creamy green tea and coconut milk wash cleans and hydrates your skin, and a clarifying Sand Your Ground, Arizona red mineral mud exfoliator will smooth away dead skin and soothe with desert willow bark. You'll be painted in Splendid Dirt, an organic pumpkin puree nutrient mud mask that tingles as it purifies and shrinks the look of your pores. Next, you'll be pampered with Three Milk Ageless Moisturizer, a botanical milk blend with peptides that work to plump deep wrinkles. Finally, this perky pumpkin gets an eye lift — with Crow Catcher — a clinically tested serum that makes crow's feet start running for the hills.