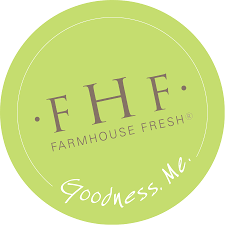 Pick of the Month
Keep your feet feeling summer fresh straight into fall with our Honey Heel Glaze and Citrus Grass Salt Scrub.  Receive 20% OFF through September 30th, 2017!   Hurry in while supplies last.
Award Winning Honey Heel Glaze 
$20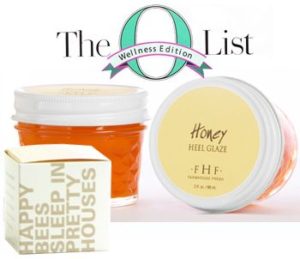 96.2% Natural – NOT Vegan (has honey)- Gluten Free
A scrumptious bottle of love for heels and toes. This divine honey-based moisture serum seals in moisture and brings rich color back to tired feet. It's been called the Instant Pedicure. Simply brush on and rub into feet for chalkless bliss – no more white ashy look! (We've been told it's fabulous on cracked knuckles too!) This golden jar is a true guilty pleasure from the first moment you let it breathe – fragranced with velvety cinnamon notes, sweet cloves and actual honey. The finest of moisturizing elements have been incorporated from genuine honey, and aloe leaf juice to pineapple and papaya fruit extracts. Honey Heel Glaze is ultra-smooth, non-greasy, and addictive in every way. Includes application brush in a darling carrying box to delight your gift recipients. 96.2% natural and like all FarmHouse Fresh products, Honey Heel Glaze is Paraben & Sulfate free. Featured in Southern Living Magazine, Real Beauty and others. Checkout our press page for details.
Citrus Grass Salt Scrub
$18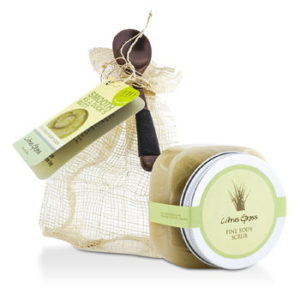 95% Natural – Vegan – Gluten Free 
A refreshingly light citrus scent with a hint of cream combines with silky rice bran oil, organic alfalfa root, and the finest of salt grains to deliver soft skin like you've simply never felt before! Charmingly hand packaged in a woven bag with a hang tag that reads: "Smooth as a Duck's Butt." But don't be deceived! This is one serious body scrub – uniquely formulated with Rice Bran Oil for its high concentration of Vitamin E that brings lasting, radiant-looking skin! Use in the shower or bath tub– just scoop, rub and scrub in circular motions. Perfect in the summer before you slip on a slinky dress. Cracked heels are gonners! Our fine grain salt scrubs are among our most popular products, selected by Oprah for her O-List where she said "Here's a trio of scrubs that smell so good I'm ready to serve them over berries!" Lightweight, non-greasy and so addictively yummy, you'll keep a jar by every sink and bathtub!
Each jar is hand assembled, and includes a wooden spoon for scooping. Like all FarmHouse Fresh products, our fine grain salt scrubs are Paraben and Sulfate free!